Nelson Cortes
PhD, Old Dominion University
Assistant Professor
Representative, SMART LAB

Dr. Cortes earned his B.S. in Physical Education & Exercise Science from ULHT with a special emphasis in Sports Biomechanics; an M.S. Ed. in Exercise Science with concentration in Clinical Biomechanics; and his Ph.D. in Human Movement Science from Old Dominion University. He has authored his research in refereed journals, and other publications; and has presented regionally, nationally and internationally. Dr. Cortes serves as a manuscript reviewer for several journals, including Journal of Applied Biomechanics, Journal of Athletic Training, Journal of Sports Science.

Read more about Dr. Cortes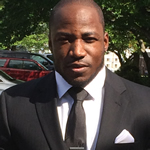 Oladipo Eddo
MSc., George Mason University
Lab manager, SMART LAB

Oladipo Eddo earned his B.S. in Kinesiology from George Mason University; an M.Sc. in Exercise Fitness and Health Promotion with a concentration in biomechanics in 2014. He is currently completing his doctoral studies in education at George Mason University with a concentration in Exercise Fitness and Health Promotion. Oladipo's area of research is lower extremity mechanics in relation to injury prevention. Projects Oladipo has been involved in, include the use of ultrasound to quantify muscle dynamics during gait, and gait retraining related research in the knee osteoarthritis population. He is in the process of completing research to be submitted to refereed journals, and has presented regionally, and nationally at various conferences.